Kris's 13 New Releases They're Dying to Read!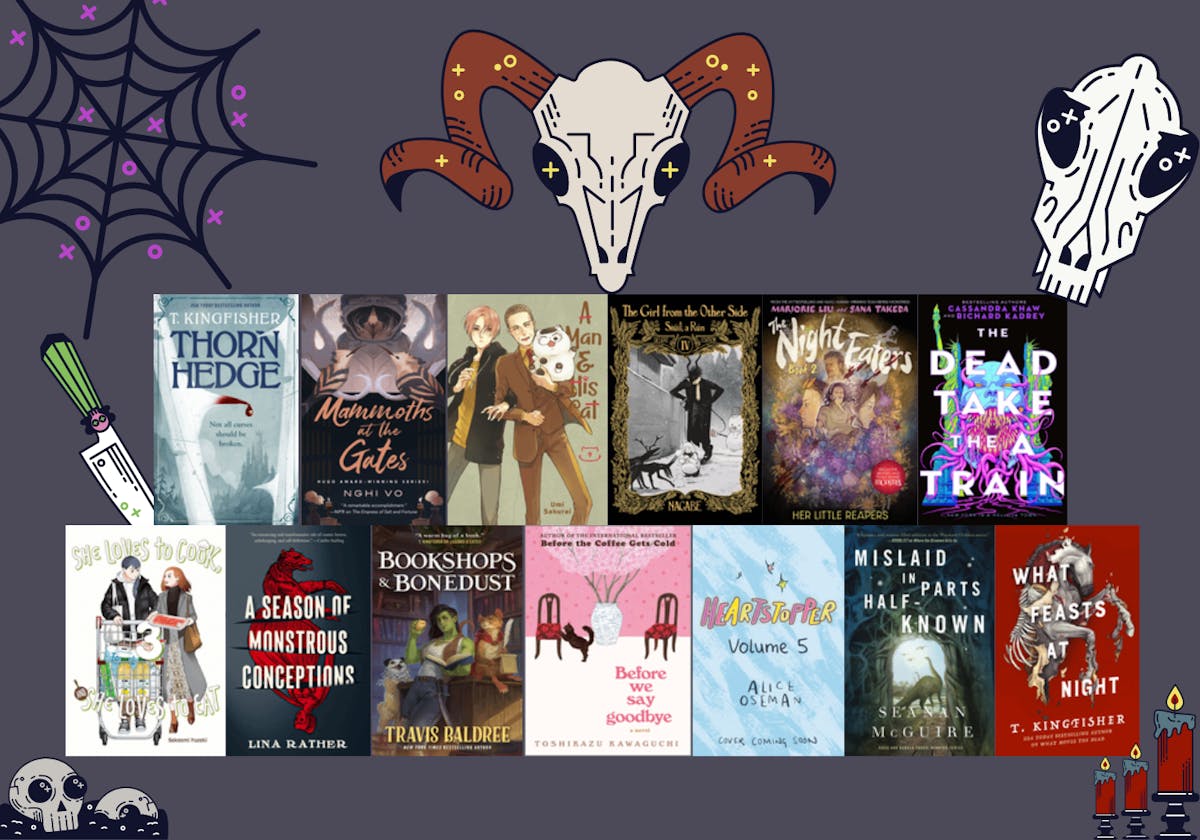 "Mislaid things would, inevitably, turn up again, returned to their places, whether or not those places still fit them." --Seanan McGuire, Mislaid in Parts Half-Known
The rest of the year (and into 2024) has claimed my wallet. Every week brings great new releases, but I have my sight set on a few series I have fallen in love with and a few standalones!
Thornhedge by T. Kingfisher
I love twisted fairytales and Kingfisher has already proven to be a master at twisting tales in their other book, Nettle & Bone. I have my hands on the novel now and I can't wait to sit down and devour it!
It's already out!
Mammoths at the Gate by Nghi Vo
This is the fourth volume in The Empress of Salt and Fortune series. The storytelling style as well as the incredibly rich world and characters that have inhabited each book makes me very excited to get my hands on the next story Vo paints with their rich prose.
Out September 12, 2023!
A Man and His Cat 09 by Umi Sakurai
Hand to heart: every installment in this manga series has made me cry. I have been with this series since day one of the first volume's publication, and will continue to follow Fukumaru's wonderful story until it has finished.
Out September 26, 2023!
The Girl from the Other Side: Siúil, a Rún Deluxe Edition IV by Nagabe
In this final omnibus installment in the fantastic manga series, The Girl from the Other Side: Siúil, a Rún, finishes the heart-breaking story of a young girl trying to survive and the monsters who would see her perish. The illustration is such a beautiful style, and in this hardcover edition with gold lettering, it binds it together in a beautiful quality book.
Out September 26, 2023!
The Night Eaters: Her Little Reapers (the Night Eaters Book #2) by Marjorie Liu and Sana Takeda
Ah, what a cute family. A mom who eats demons, a dad who supports the mother who eats demons, and twins who have been thrust into the grisly world of the supernatural with their mom at the center. What could go wrong?
Out October 3, 2023!
The Dead Take the A Train by Cassandra Khaw and Richard Kadrey
Khaw is a well-known name in the horror community, this book of dark fantasy promises to be an interesting ride with the undead as fellow passengers.
Out October 3, 2023!
She Loves to Cook, and She Loves to Eat, Vol 3 by Sakaomi Yuzaki
Cute. So cute it hurts. A beautiful slow burn, with food related topics and puns flittered throughout--this manga has it all and I'm so excited to see if the slow burn is going to torture me through this novel or finally come to fruition!
Out October 17, 2023!
A Season of Monstrous Conceptions by Lina Rather
Werewolves in London--well, monsters in 17th-century London to be precise. This tale of monsters born to humans and the steps an unnatural midwife will take to protect her new, independent life.
Out October 31, 2023!
Bookshops & Bonedust by Travis Baldree
Legends & Lattes was published first, but this one is the prequel telling the story of how Viv came to the conclusion that life was more than slaughter and questing, and that coffee might be the single greatest thing ever created.
Out November 7, 2023!
Before We Say Goodbye by Toshikazu Kawaguchi
This is the fourth book in the Before the Coffee Gets Cold series, about a chair in a café that lets patrons travel back in time. There are rules, as with all things, and they are usually enough to turn people away. However, for those whose past haunts them, the chair is the only solution. I wonder who will take a seat and where their ghosts will take us this time--as long as we're back before the coffee cools.
Out November 14, 2023!
Heartstopper #5 by Alice Oseman
The Hearstopper series is a cute, yet deep exploration of Charlie's life. Don't let the cute illustration style fool you--this series can be dark, but its reflection of human relationships is so cute and compelling. I cannot wait to read the next chapter of Charlie's and Nick's relationship.
Out December 19, 2023!
Mislaid in Parts Half-Known by Seanan McGuire
This is the latest book in the Wayward Children series--a series involving traveling through portals into magical worlds--and there's a dinosaur on the cover. Do I need to say more?
Out January 9, 2024!
What Feasts at Night by T. Kingfisher
It seems fitting Kingfisher starts and ends my list. The first book in this duology (What Moves the Dead) was my first Kingfisher read and it is why I became a ravenous fan. I cannot wait to see how the follow up to a fantastic fungi-filled zombie story will do.
Out February 13, 2024!
Honorable mentions: Mieruk-chan vol 8, My Dress-Up Darling vol 10, and Apothecary Diaries vol 10.
ABOUT THE BOOKSELLER
Kris (she/they) studied for their MA in creative writing in Wales. Their favorite genres are horror, science, manga, and fantasy. Kris cannot DNF a book; they either force their way to the finish or it sits in their TBR pile for all eternity.