Kramers Poetry Reading: Winter Edition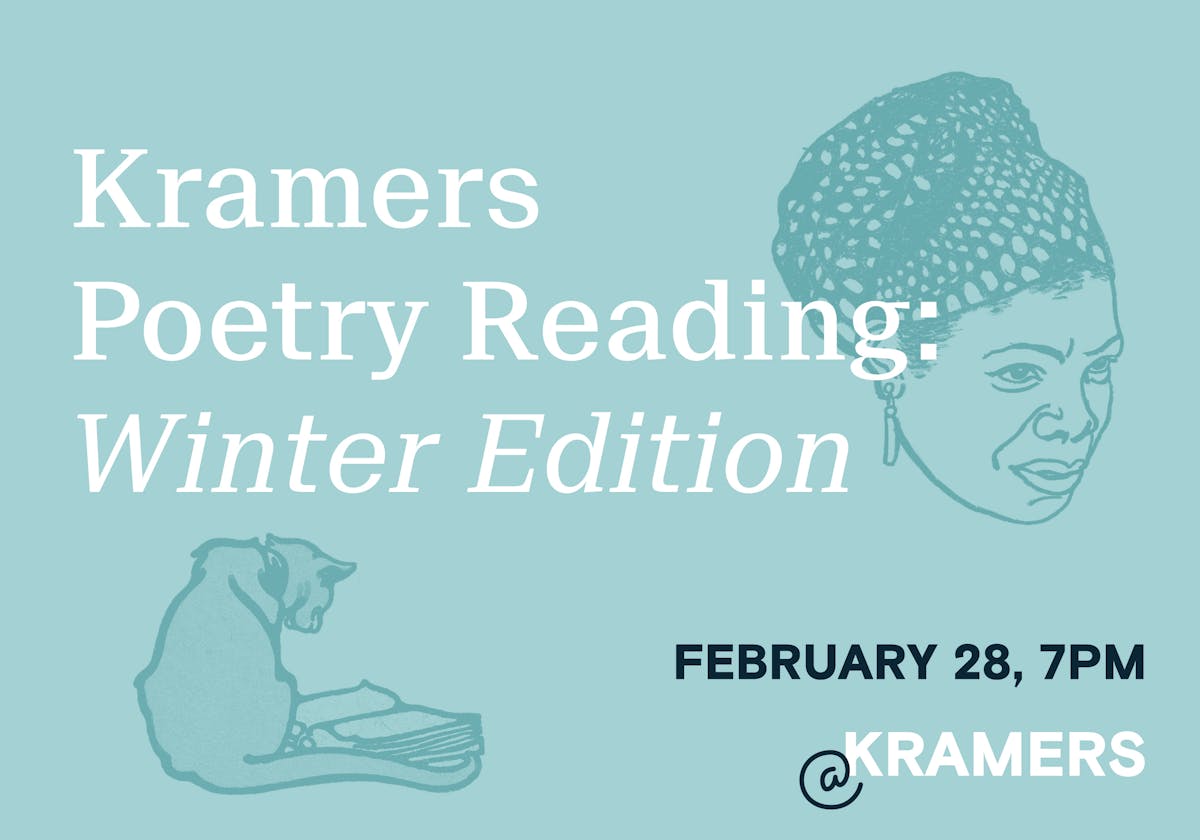 TUESDAY, FEBRUARY 28TH, 7:00PM
The dead of winter is upon us, so leave it to the poets to liven it up! Kramers Winter Poetry Reading, part of our seasonal poetry reading series, will feature four local writers. Sami Miranda, Martin Mitchell, Yvette Neisser, and Kirsten Porter will each read for 10 to 15 minutes from original work.
The reading also features a short winter-themed writing contest, the winner of which earns a $20 gift card to Kramers. Come join us and warm up with a toast to poetry!
Sami Miranda is originally from the Bronx and currently makes his home in Washington DC. He is a teacher, Poet and Artist. He is the author of several books of poetry: Departure from Central Square Press, We Is from Zozobra Publishing, and his most recent book, Protection from Erasure from Jaded Ibis. His artwork has been exhibited in the DC area, Madrid, Puerto Rico and New York and he currently has a piece on loan to the Smithsonian Museum of American History's Molina Family Gallery for the exhibit Presente A Latino History of the United States.
Martin Mitchell is the Managing Editor of Poetry Daily and the Programs Manager at The Alan Cheuse Center for International Writers. His works has appeared in The Threepenny Review, Psaltery & Lyre, Time Out New York, and elsewhere. He lives in Alexandria, Virginia.
Yvette Neisser is the author of two poetry collections, Iron into Flower (2022) and Grip (2011 Gival Press Poetry Award). Her translations from Spanish include South Pole/Polo Sur by María Teresa Ogliastri and Difficult Beauty: Selected Poems by Luis Alberto Ambroggio. Founder of the DC-Area Literary Translators Network, she has taught writing at The George Washington University, The Writer's Center, and elsewhere. By day, she works in international development.
Kirsten Porter is a freelance editor, poet, professor, and guest lecturer. She earned an MFA in creative writing from George Mason University and has taught creative writing, composition, and literature studies at Marymount University. Porter's poetry and teachings focus on women, cultural diversity, community, trauma writing, and the ability for all to repair what is broken in themselves and the world. Her poems have appeared in numerous journals and anthologies. Porter is the assistant to poet and literary activist E. Ethelbert Miller and the editor of The Collected Poems of E. Ethelbert Miller, published by Willow Books. She resides in Northern Virginia with her five rescue dogs.