In Conversation with Luke Russert: Look for Me There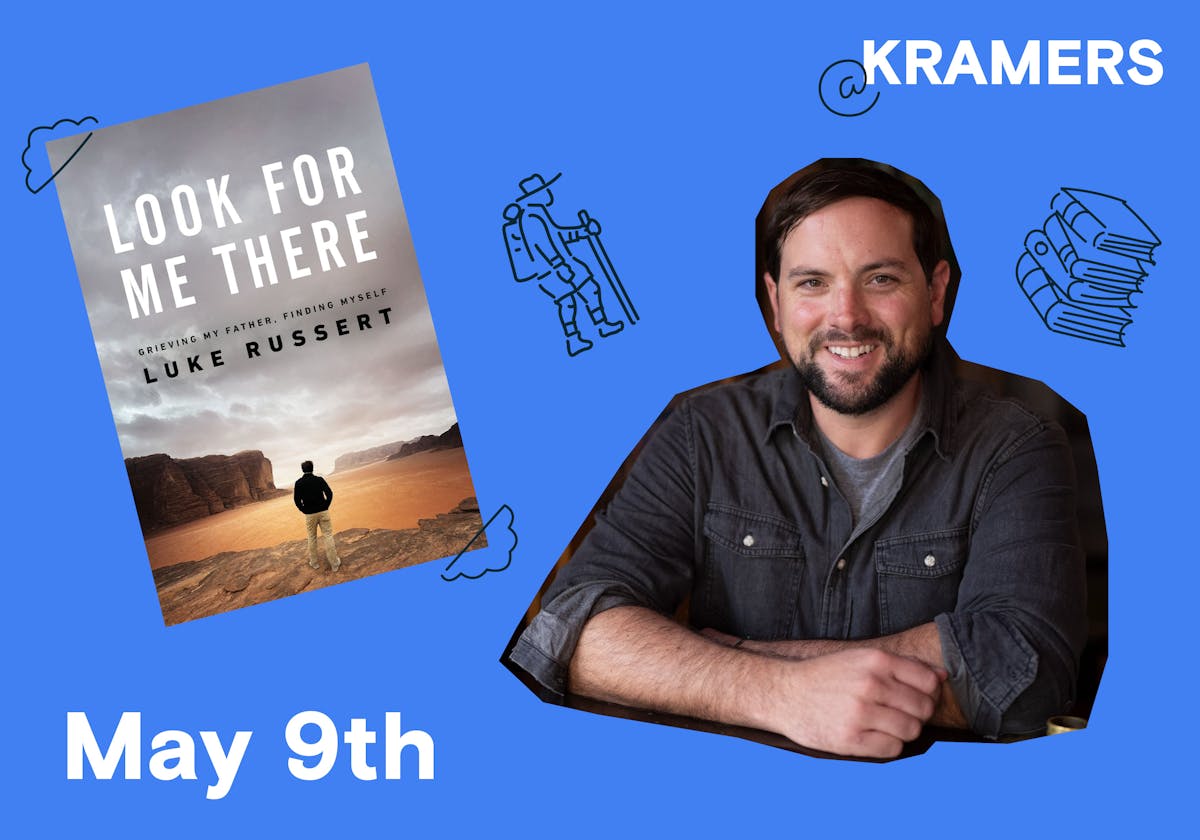 TUESDAY, MAY 9TH, 7:00PM
Look for Me There is a poignant reflection that offers encouragement to examine our choices, take risks, and discover our truest selves.
In Look for Me There, Luke Russert traverses terrain both physical and deeply personal. On his journey to some of the world's most stunning destinations, he visits the internal places of grief, family, faith, ambition, and purpose—with intense self-reflection, honesty, and courage."—Savannah Guthrie, coanchor of Today.
"Look for me there," news legend Tim Russert would tell his son, Luke, when confirming a pickup spot at an airport, sporting event, or rock concert. After Tim died unexpectedly, Luke kept looking for his father, following in Tim's footsteps and carving out a highly successful career at NBC News. After eight years covering politics on television, Luke realized he had no good answer as to why he was chasing his father's legacy. As the son of two accomplished parents—his mother is journalist Maureen Orth of Vanity Fair—Luke felt the pressure of high expectations but suddenly decided to leave the familiar path behind.
Instead, Luke set out on his own to find answers. What began as several open-ended months of travel to decompress and reassess morphed into a three-plus-year odyssey across six continents to discover the world and, ultimately, to find himself.
Chronicling the important lessons and historical understandings Luke discovered from his travels, Look for Me There is both the vivid narrative of that journey and the emotional story of a young man taking charge of his life, reexamining his relationship with his parents, and finally grieving his larger-than-life father, who died too young.
For anyone uncertain about the direction of their life or unsure of how to move forward after a loss, Look for Me There is a poignant reflection that offers encouragement to examine our choices, take risks, and discover our truest selves.
ABOUT THE AUTHOR:
Luke Russert is an author and an Emmy Award winning journalist who served as an NBC News correspondent from 2008 to 2016. Primarily covering American politics, he was seen on popular outlets such as NBC Nightly News, Today, NBCNews.com, and MSNBC.
After leaving media, Russert embarked on a three year, six continent travel expedition that took him to nearly seventy countries. Published by Harper Horizon, his first book, Look For Me There, is a reflection of his deeply personal internal journey across many diverse external places.
"I reached a crossroads in my early thirties where I felt empty and unfulfilled. I wanted to know—why? So I set out into the world, hoping to feel something. The reward of travel was that it made me much more aware of my surroundings — the beauty of nature, the weight of history and the common good of the larger human family."
He is the son of the late Tim Russert of NBC's Meet the Press and Vanity Fair writer Maureen Orth. Russert resides in Washington, DC. with his pug named Shawkemo.