I Am Golden with Eva Chen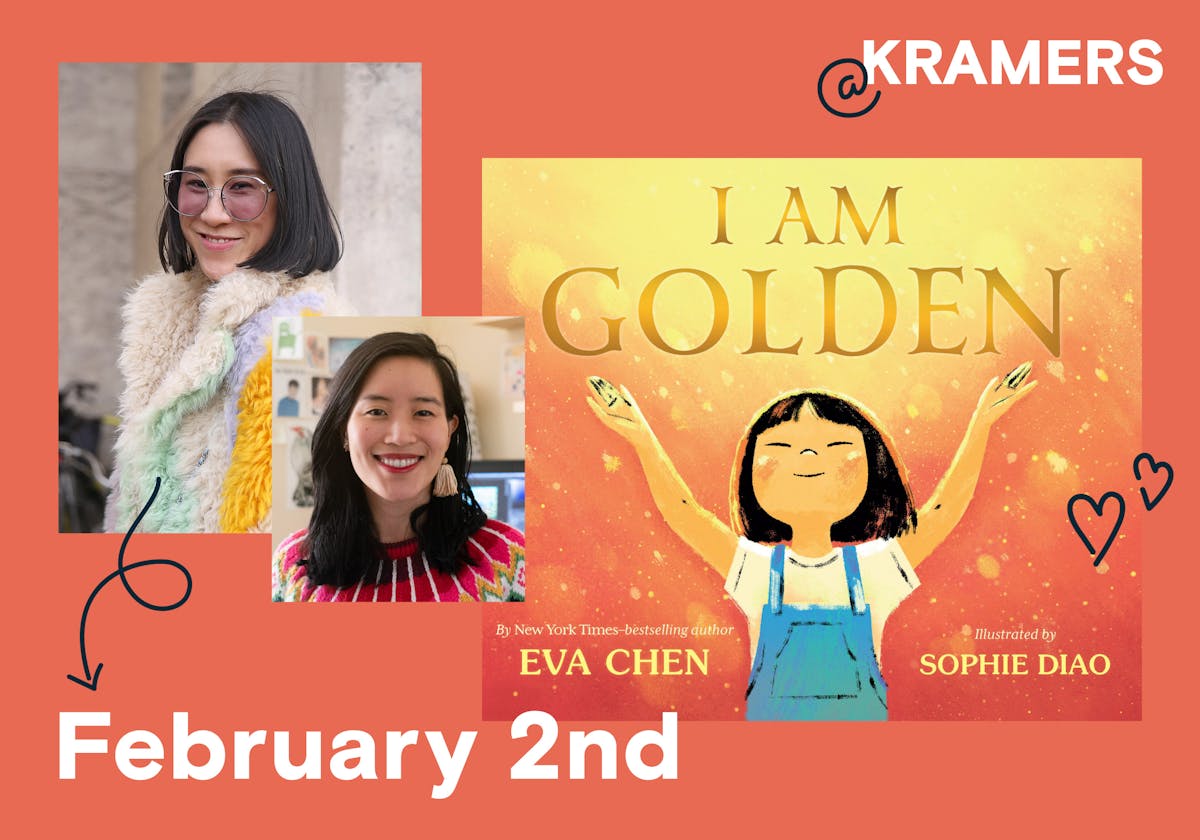 Wednesday, February 2nd, 7pm • SOLD OUT!
We are excited to welcome you into our renovated Kramers Bar & Lounge for the I am Golden reading & book signing event with Eva Chen on Wednesday, February 2, 2022. Please note that due to demand, the reading and Q&A event will now begin at 7pm, and the book signing and photo portion will take place AFTER the reading.
Signed books will be available for purchase at Kramers. Feel free to also stop in and join us for dinner at All Day by Kramers before the reading.
Reading and Q&A, 7pm (ticket and pre-registration required) SOLD OUT
Book Signing & Photos, 8pm (no ticket required)
See you Wednesday!
Eva Chen is a first-generation Chinese-American who grew up in New York City. She blames her deviation from pre-med at Johns Hopkins University on a love of fashion and beauty instilled in her by her mother, whose perfect bob and lipstick made a permanent imprint on her impressionable young mind. Previously the editor in chief of Lucky, Eva has also written for ELLE, Vogue, Teen Vogue, Vogue China, the New York Times, and the Wall Street Journal. She is currently the head of fashion partnerships at Instagram, where she is guilty of the occasional duck-face selfie. Eva lives in New York City with her husband and two children. She is the author of Juno Valentine and the Magical Shoes, A Is for Awesome, Juno Valentine and the Fantastic Fashion Adventure, 321 Awesome!, Roxy the Last Unisaurus Rex, Roxy the Unisaurus Rex Presents: Oh No, the Talent Show!, and I Am Golden.
Sophie Diao is an artist in San Francisco. As research for the book Sarah and the Big Wave, she surfed a wave that she's pretty sure was over one foot tall. She loves illustrating natural wonders and is the talent behind many a Google Doodle. She is the illustrator of I Am Golden.
Masks are required to enter the venue and must be worn at all times. We strongly encourage proof of vaccination or a negative COVID test prior to attendance (72 hours before).