Words Words Words Virtual Book Club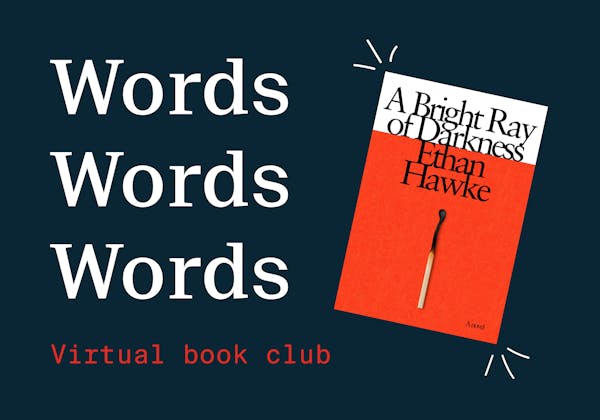 Thursday, April 1, 2021
Virtual events are back! On April 1st at 6:30 pm, the Folger Shakespeare Library will host their online book club, Words Words Words, via Zoom. For their April session, the club will be reading A Bright Ray of Darkness by Ethan Hawke. You can call the shop at 202.387.1400 to order your copy, or visit us on Bookshop.org to have it shipped to your home.
Attendance is free, but registration is required.
A Bright Ray of Darkness by Ethan Hawke:
Content transparency: This book contains adult language and sexually explicit content.
The blistering story of a young man making his Broadway debut in Henry IV just as his marriage implodes—an utterly transfixing book about art and love, fame and heartbreak from the acclaimed actor/writer/director.
Hawke's narrator is a young man in torment, disgusted with himself after the collapse of his marriage, still half-hoping for a reconciliation that would allow him to forgive himself and move on as he clumsily, and sometimes hilariously, tries to manage the wreckage of his personal life with whiskey and sex. What saves him is theater: in particular, the challenge of performing the role of Hotspur in a production of Henry IV under the leadership of a brilliant director, helmed by one of the most electrifying–and narcissistic–Falstaff's of all time. Searing and raw, A Bright Ray of Darkness is a novel about shame and beauty and faith, and the moral power of art.
"A brilliant insider's account of the joys and terrors of acting, the trials of celebrity, and the secrets of Henry IV."—Kirkus Reviews
About the Words Words Words Book Club:
Join the Folger as we search the stacks for our favorite novels inspired by Shakespeare and the early modern era.
Held on the first Thursday of the month, this informal Book Club is free and open to all. Our picks range from historical fiction to adaptations of Shakespeare's plays and will be sourced from a different indie bookstore each month.
To spark the discussion, Folger staff will be on hand to provide historical context, throw in trivia, and speak to relevant items from the library collection.
Participation is free, but registration is required. Sessions will be conducted through Zoom, so keep an eye on your inbox the day before for an access link, along with recommendations for quick bites and beverages to enjoy while we chat.