Seth's Books Paired with Croissants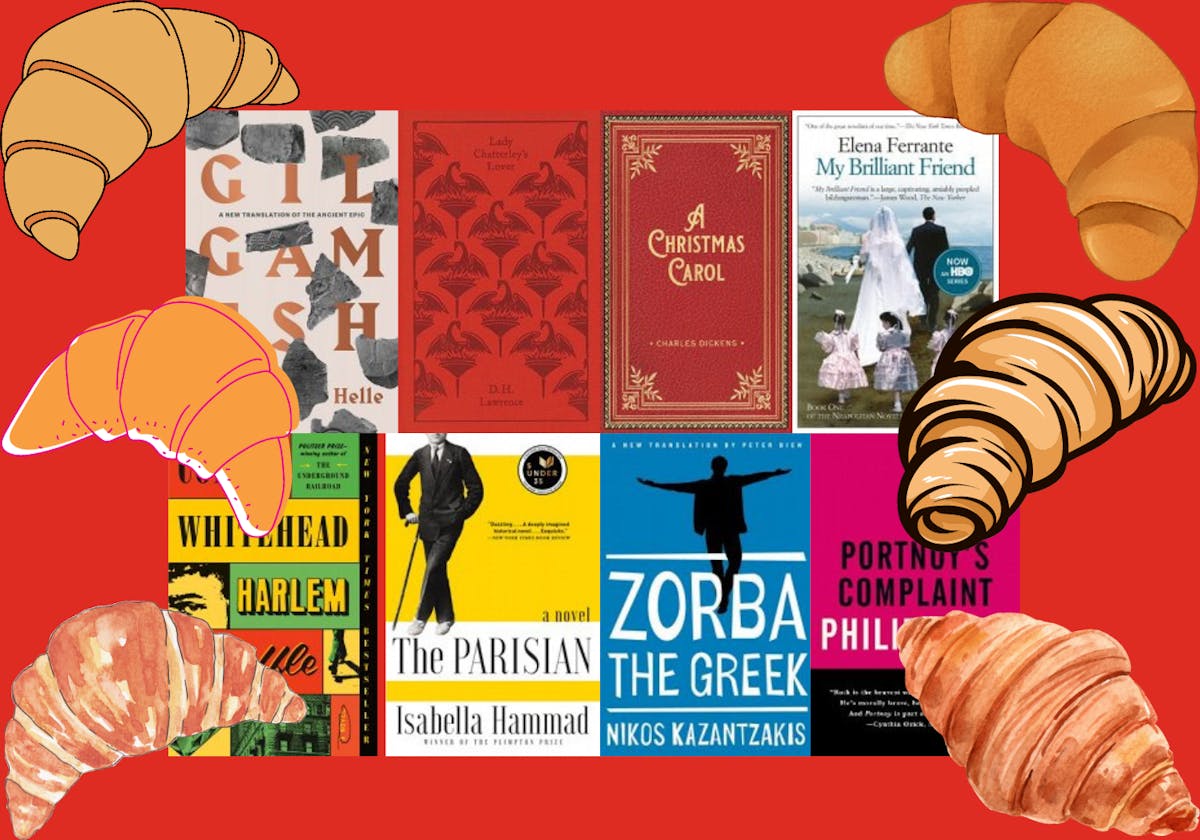 "Strange things have been spoken, why does your heart speak strangely? The dream was marvelous but the terror was great; we must treasure the dream whatever the terror." —The Epic of Gilgamesh
A good book and a good snack--what could be better? Seth has some fantastic recommendations for all the book and croissant lovers out there!
Plain Croissant
What's the best book to read with a plain croissant? The Epic of Gilgamesh. Gilgamesh is the first great work of world literature, and the croissant is the original buttery pastry snack. It's very simple.
Chocolate croissant
Chocolate is an aphrodisiac, so it would pair well with a book that is sensual and salacious. A perfect match would be D.H. Lawrence's Lady Chatterley's Lover. Lawrence's frequently censored final novel details the steamy affair between a high-class woman and her gamekeeper. A decadent bite of chocolate and flaky pastry would appropriately match this novel.
Almond croissant
Since almond marzipan filling always reminds me of the winter holiday season, it only makes sense that A Christmas Carol is the perfect holiday read for the perfect holiday nosh. One bite of a delicious almond croissant will even warm the heart of a Scrooge.
Chocolate almond croissant
Chocolate and almond marzipan evokes literature that is grand and continental. No work of contemporary fiction better fits these categories than Elena Ferrante's Neopolitan Quartet. Ferrante's masterpiece sprawls over four volumes and covers the enduring friendship of two women in southern Italy; that gives you more than enough time to savor a rich chocolate almond croissant, perhaps with an espresso or maybe even a shot of sambuca.
Ham & swiss cheese croissant
One bite of a ham & swiss croissant returns me to childhood memories of savoring grilled ham and cheese sandwiches. The epoch-defying pairing of cured savory ham and gooey melted swiss cheese is best appreciated while reading Marcel Proust's acclaimed modernist novel In Search of Lost Time. Much as a madeleine transported Proust back to his childhood at the beginning of his semi-autobiographical tome, this phenomenal croissant will make you transcend space and time.
Egg & cheese croissant
Wake up and smell the croissant! Grab a cup of hot coffee and the latest issue of the Washingtonian. That's right: this croissant's book pairing isn't a book at all, it's a magazine! Enjoy the fluffy egg and mouth-watering cheese as you get ready for the day and read about all you can do the D.C. metro area. Learn about the 50 best brunch spots and the District's most powerful women as you fill up on a savory breakfast snack.
Egg, cheese, and turkey sausage croissant
A DC scrumptious egg, cheese, and turkey sausage croissant isn't quite a New York City bacon, egg, and cheese, but you can pretend it is while reading Colson Whitehead's Harlem Shuffle. Add some hot sauce to this croissant for some big city spice while you read about daring Manhattan heists. It will be just like you bought it in a bodega.
Za'atar croissant
Za'atar - the delicious national spice of Palestine – unsurprisingly complements a soft buttery croissants. It is best to enjoy the za'atar croissant with eyes glued to the pages of Isabella Hamad's The Parisian, a sweeping historical novel covering early 20th century Palestine through the perspective of one man. Perhaps an Arabic coffee is also in order!
Spinach & feta croissant
You can almost smell the salt of the Aegean as you bite into a scrumptious spinach & feta croissant. This Mediterranean snack is as rich and vivacious as the title character in Nikos Kazantzakis' classic Zorba the Greek. The pairing of the croissant and Zorba will have you wishing you were dancing by the beach in Crete.
Everything croissant
An everything croissant is a perfect personal complement to my Jewish heritage and many resulting anxieties. I enjoy noshing this tasty pastry and sweating the small stuff on my breaks from work. What better book to pair with this croissant than Philip Roth's equally neurotic and irreverent breakout his Portnoy's Complaint? I might not actually suggest reading the book while eating the croissant. Maybe eat the croissant first before the book this time.
ABOUT THE BOOKSELLER
Seth is from Boston.