September New Releases We're Excited For!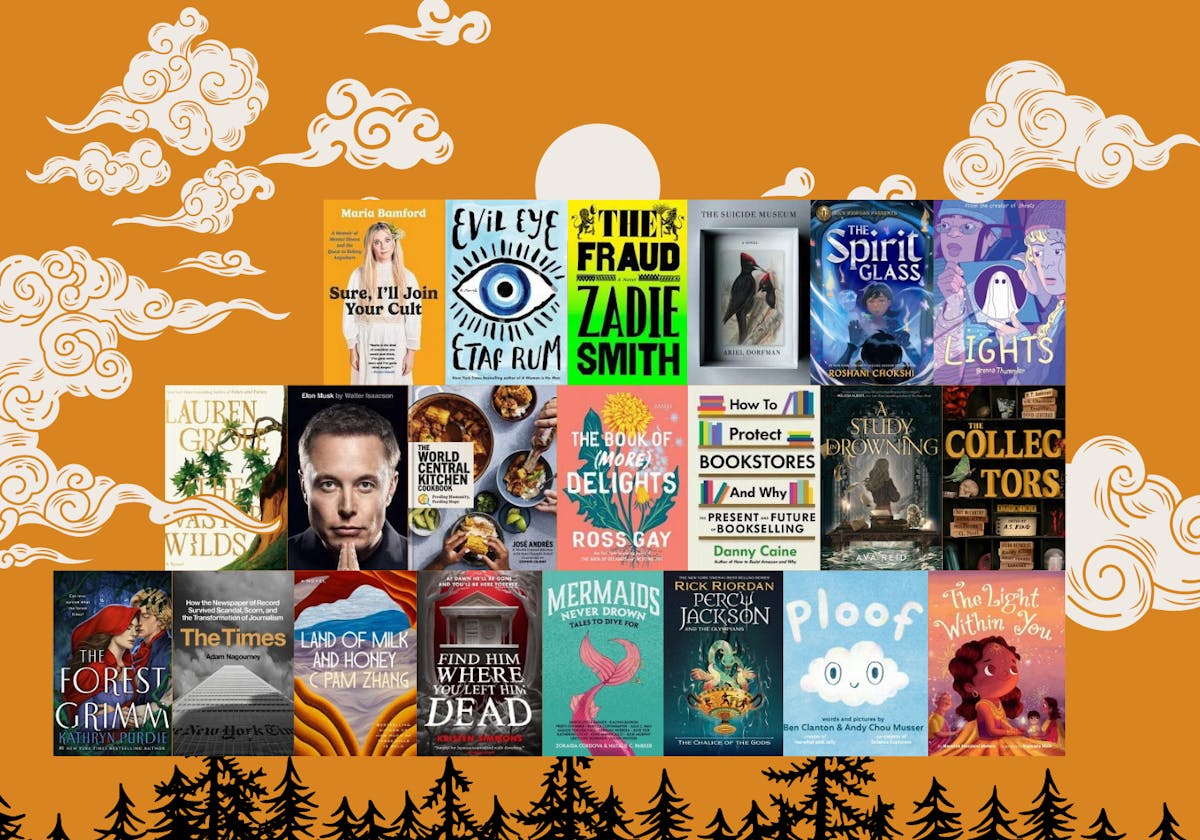 September has some great new releases coming and we're very excited for everything to come, but there are a few that stand out from the rest! Our book buyers, Llalan and Jordan, breakdown the new releases we're most excited for!
Here are our Fiction and Nonfiction New Releases!
Sure, I'll Join Your Cult: A Memoir of Mental Illness and the Quest to Belong Anywhere by Maria Bamford
In this stand-up comedian's memoir about belonging, Bamford explores what it means to be part of a group, a cult, and society as a whole. She examines show business, mental health, and the comforts of rigid belief systems. Makes me wonder if Kramers is a cult? Maybe...
Out September 5th!
Evil Eye by Etaf Rum
The phrase "intergenerational trauma" is a weighted one, but here it perfectly describes a striking novel about a Palestinian-American woman dealing with racism at work and a possible familial curse at home. This mother-daughter drama examines family history and what it takes to break the cycle of abuse.
Out September 5th!
The Fraud by Zadie Smith
Smith's White Teeth is a book that taught me what fiction is capable of. I look forward to this historical novel then, because of the author's prowess, but also because of its promised exploration of truth, authenticity, and "the other."
Out September 5th!
The Suicide Museum by Ariel Dorfman
This is a novel with a premise worthy of Gabriel Garcia Marquez: a writer (Ariel, as it happens) is hired by a billionaire to help solve the mysterious death of Salvador Allende, Chilean president during the 1973 coup. A saga about love, family, and fascism, this book bends reality into fiction and back again.
Out September 5th!
The Vaster Wilds by Lauren Groff
Let's be honest, I'd read anything Groff wrote, even if it was a to-do list on a cocktail napkin. That aside, this novel about a girl who escapes a colonial settlement and lives by her wits in the wilderness piques my interest. An adventure tale and cautionary fable at the same time, written in predictably astonishing prose.
Out September 12th!
Elon Musk by Walter Isaacson
I don't want to be excited about this book, just based on my personal distaste for the man, but I trust Isaacson (author of Steve Jobs and Einstein) to present not only a balanced and honest portrait, but also a riveting and startling narrative. And after all, who isn't a little bit curious about what goes on in this strange man's head?
Out September 12th!
The World Central Cookbook: Feeding Humanity, Feeding Hope by José Andrés
A DC favorite, Andrés and The World Kitchen share recipes inspired by the places they've visited after disasters. Each chapter represents a value like Hope or Urgency. I'm no chef, but I'll happily buy this book for the person who cooks for me, as all the author proceeds go back into the organization to help feed communities in need.
Out September 12th!
The Book of (More) Delights: Essays by Ross Gay
And my crush on Ross Gay grows. This book, a follow-up to his first Book of Delights, is hard to describe without using the word delight. Quick essays that remind one how to find joy in the everyday. The first book inspired me to look for delights myself and the second is teaching me how to live in delight.
Out September 19th!
How to Protect Bookstores and Why: The Present and Future of Bookselling by Danny Caine
You may think I'm obligated to add this to my list, but I'm actually very excited about this new book by my personal Bookselling Hero, Danny Caine. In this book we learn how bookstores help save communities, promote culture, and how we can help preserve them in our neighborhoods.
Out September 19th!
The Times: How the Newspaper of Record Survived Scandal, Scorn, and the Transformation of Journalism by Adam Nagourney
Okay, I'll admit that I often just read the headlines (and the book reviews), but that doesn't mean I don't know the value and importance of The New York Times. I'm eager for this history of four decades of the paper's life, ending in the election of 2016. Digital age challenges plus criticism and scandal equals a compelling read.
Out September 26th!
Somebody by Richard
I am a strong advocate of Zhang's first novel, How Much of These Hills is Gold, so I'm really looking forward to this next book about, essentially, the ethics of pleasure on a dying planet. A chef in a dirty city takes a job in a clean, elite refuge, which reawakens her own appetites but causes her to question her place in the world.
Out September 26th!
Here are our Young Adult, Middle Grade, and Children's New Releases!
Rick Riordan Presents: The Spirit Glass by Roshani Chokshi
I like the Rick Riordan Presents books and this one seems really interesting.
Out September 5th!
Lights (Sheets) by Brenna Thummler
This is the third in a middle grade graphic novel series about a little ghost who makes friends with two girls. I loved the first two books so I can't wait to read this one too!
Out September 5th!
A Study in Drowning by Ava Reid
A mix of historical fantasy and gothic mystery, with enemies to lovers--sign me up!
Out September 19th!
The Collectors: Stories edited by A. S. King
I'm a big fan of anthologies, and this is no exception.
Out September 19th!
The Forest Grimm by Kathryn Purdie
Creepy fairy tales, I'm in!
Out September 19th!
Find Him Where You Left Him Dead by Kristen Simmons
Not sure what this one is about but the title and cover interest me so I will be checking this one out.
Out September 26th!
Mermaids Never Drown: Tales to Dive for (Untold Legends #2) by Zoraida Córdova & Natalie C. Parker
This is part of a series of anthologies of fictional creatures. This one is about mermaids. I loved the first set about vampires so I'm excited to check this one out.
Out September 26th!
Percy Jackson and the Olympians: The Chalice of the Gods (Percy Jackson & the Olympians) by Rick Riordan
I absolutely adored this series when I read it, and was super excited to hear that a new one was coming out.
Out September 26th!
Ploof by Ben Clanton and Andy Chou Musser
About a little cloud who is trying to overcome their shyness.
Out September 26th!
The Light Within You by Namita Moolani Mehra
This book's art and story are beautiful, and I think it's something every person should check out.
Out September 26th!
ABOUT THE BOOKSELLERS
Despite spending decades on the East Coast, Llalan--our book buyer--remains a stalwart Midwesterner. And although she has an MA in Publishing and Writing from Emerson College in Boston, she prefers the life of a Bookstore Lady. Llalan loves literary fiction, nature writing, and craft beer.
Jordan, our YA, middle grade, and children's book buyer, has a fraternal twin sister. She has never been on an airplane--the farthest she has ever traveled was New Jersey by train. She is an avid K-Pop Collector and owns over 500 K-Pop albums!