Kramers Passport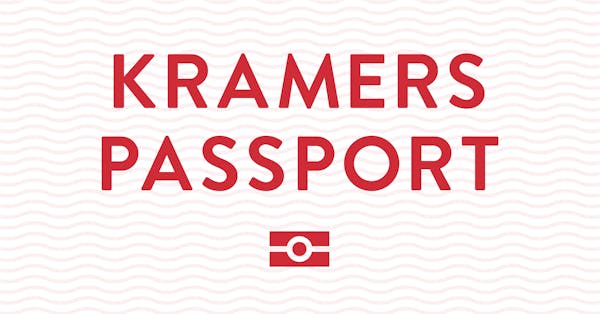 09.16.19
Get rewarded for exploring everything there is to experience at Kramers!
Here's how the passport works…
Receive 1 stamp every time you complete one of the following objectives. (Don't worry, you do not need to complete ALL of the different objectives to receive stamps. You can complete any one of these as many times as you like and you will receive a stamp every time!)
Attend an event (Most of them are free, see our events page!)
Spend $50 in the bookstore
Spend $25 in the café
Purchase a Kramers tote bag or t-shirt
Purchase a drink & appetizer at the bar
Purchase a "Dinner & a Story" book club ticket (see our events page!)
For every 2 stamps you will unlock rewards along the way!
Tier 1 (2 stamps) - A round of drinks for you and a guest in the bar or café
Tier 2 (4 stamps) - 1 Kramers tote bag OR 1 Kramers T-shirt
Tier 3 (6 stamps) - 1 complimentary entrée in the café
Tier 4 and completion (8 stamps) - A $25 Kramers gift card
Let's take a trip!
*The last day to redeem rewards is 11/18/19. Combining stamps from multiple cards is not permitted.
Share this!