In Conversation With Ramit Sethi: I Will Teach You to Be Rich, The Journal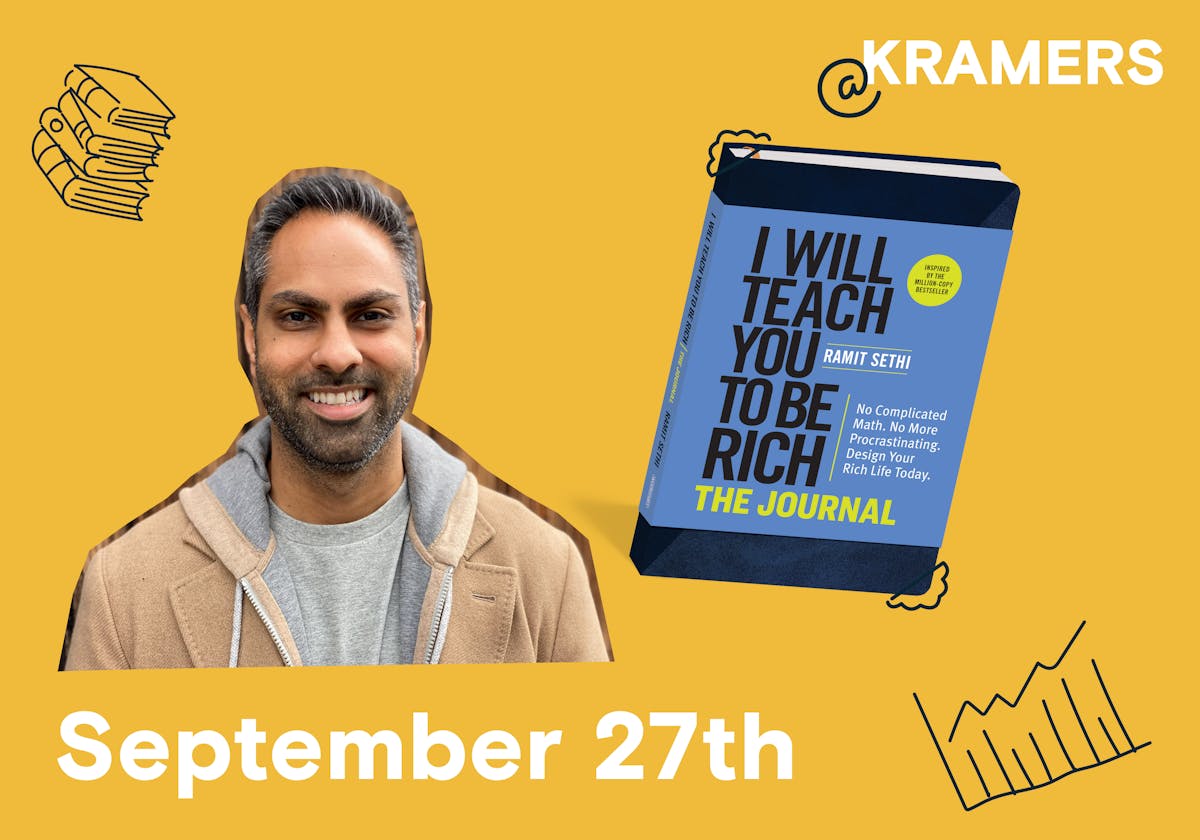 TUESDAY, SEPTEMBER 27TH, 7:00PM
I Will Teach You To Be Rich is a "no-numbers" journal—an opportunity to reflect on what a Rich Life is and how money can fuel it.
In 2009, the first edition of personal finance expert Ramit Sethi's I Will Teach You to Be Rich instantly landed on the New York Times bestseller list, and has since sold more than 1 million copies. Detailing the nuts and bolts of Sethi's financial system—the best accounts, how to invest, and word-for-word scripts to negotiate salaries—it was an extraordinary debut in difficult economic times. Sethi will join Kramers in discussion for the newest version of his book I Will Teach You To Be Rich—in a new and improved Journal format.
Ramit Sethi will stay to sign books after the reading and Q&A session.
ABOUT THE BOOK:
Using the same energizing, irreverent, easy-to-read, no-holds-barred language the IWT community has grown to know and love, this guided journal uses inspiring questions and thought-provoking exercises to help readers understand their money behavior and create their unique vision of a Rich Life. Through probing, strategic questions like "What do you LOVE to spend money on?" and "What are the money messages you grew up with?", I WILL TEACH YOU TO BE RICH: THE JOURNAL encourages readers to dream big, discover what they value most, and design their unique version of a Rich Life. It's a place to sketch and imagine—and to get out of their heads.
ABOUT THE AUTHOR:
Sethi grew up in Sacramento, the son of Indian immigrant parents who taught him the art of negotiating—his father once spent five days bargaining with a car dealer, only to walk away over the price of a set of floor mats. Ramit wasn't the smartest kid in his class, but he loved building systems, which ultimately earned him over $200,000 in scholarships, which he used to get bachelor's and master's degrees in technology and psychology at Stanford. His understanding of human behavior and money led to him to create innovative solutions in self-development and quickly become a financial guru to millions of readers in their twenties, thirties, and forties. He started his website, iwillteachyoutoberich.com, as a Stanford undergraduate in 2004, and now hosts more than a million readers per month on his blog, newsletter, podcasts, and social media.