In Conversation with Mark Arsenault: The Imposter's War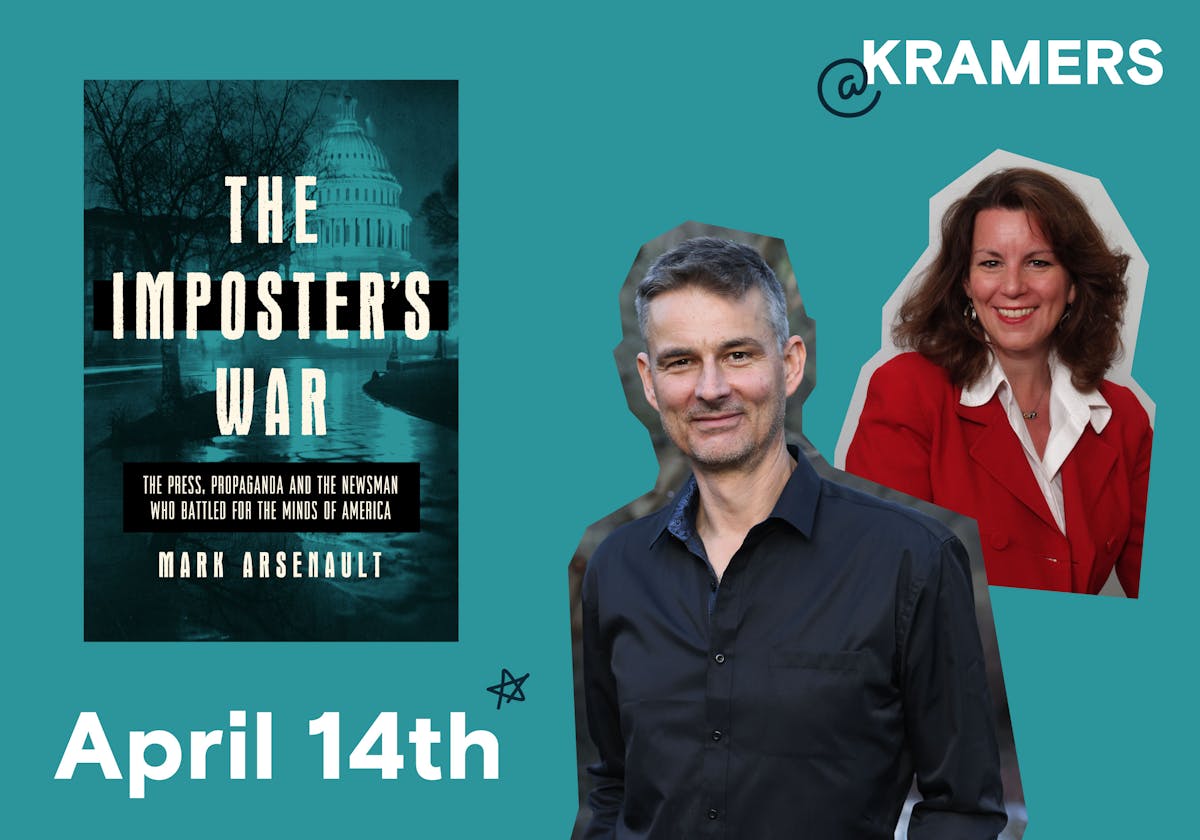 THURSDAY, APRIL 14TH, 6:30PM
Join us for a conversation with Pulitzer Prize-winning journalist Mark Arsenault as he discusses his first non-fiction book, The Imposter's War at Kramers. The event is free, but space is limited.
From Pulitzer Prize-winning journalist Mark Arsenault comes a new book about the shocking history of the espionage and infiltration of American media during WWI and the enigmatic man who exposed it all: The Imposter's War: The Press, Propaganda, and the Newsman Who Battled for the Minds of America.
Mark will be joined in conversation by Susan Mulligan, a senior political writer at U.S. News and World Report, to discuss the book. Revisit this surreal, little-known episode in American history and discuss the rise and fall of John Revelstoke Rathom, a fascinating figure who changed the course of history.
Mark Arsenault will sign books after the reading and Q&A session.
About the Author: Mark Arsenault has covered national politics, gambling, and worked on Spotlight Team investigations as a staff reporter for the Boston Globe, which won a Pulitzer Prize for its coverage of the Boston Marathon bombing. This is his first nonfiction book.
About Susan Mulligan: Susan Milligan is a senior political writer at U.S. News & World Report. She has covered domestic and foreign politics for 35 years, from New York City Hall to the Albany statehouse, and from Eastern Europe and the Middle East to Congress and the White House. As a foreign correspondent for five years, Milligan covered the conflicts in the Balkans and later reported on the war in Iraq. Her reporting on lobbying and abuse of power on Capitol Hill earned her the Everett McKinley Dirksen Award for Distinguished Reporting of Congress, and she won a Society of Professional Journalists award for commentary. As a resident fellow at Harvard University's Institute of Politics, she led a study group on midterm elections. She was on a team of authors of the New York Times bestselling biography Last Lion: The Fall and Rise of Ted Kennedy and was a contributor to the book Triumphs and Tragedies of the Modern Congress. She has worked at States News Service, the New York Daily News and the Boston Globe and her writing has appeared in a wide range of magazines including the Central European Economic Review, Washingtonian, Rhode Island Monthly, Business Central Europe and Institutional Investor. She graduated with a degree in political science and journalism from the University at Albany