In Conversation with Kate Andersen Brower: Elizabeth Taylor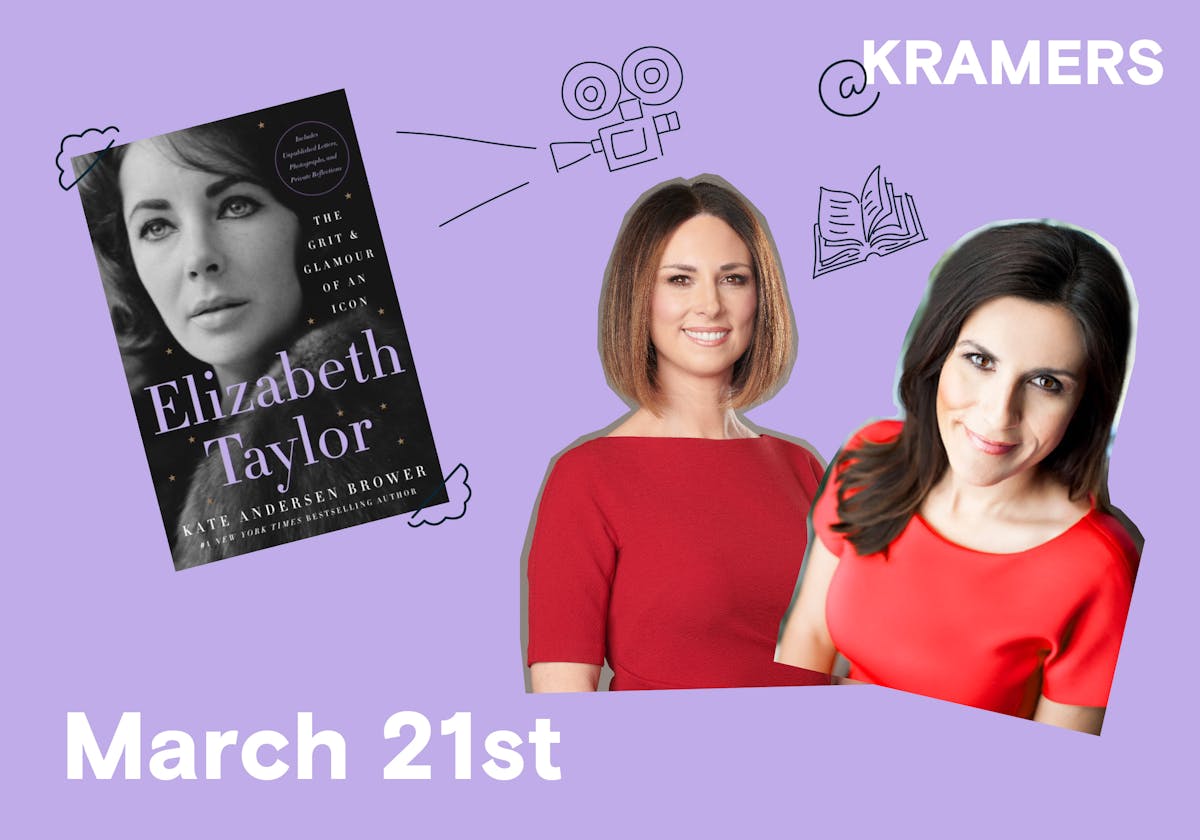 TUESDAY, MARCH 21ST, 7:00PM
From a #1 New York Times bestselling author, the first ever authorized biography of the most famous movie star of the twentieth century.
Discussion moderated by Heidi Przybyla. Author will stay to answer questions and sign books after discussion.
No celebrity rivals Elizabeth Taylor's glamour and guts or her level of fame. She was the last major star to come out of the old Hollywood studio system and she is a legend known for her beauty and her magnetic screen presence in a career that spanned most of the twentieth century and nearly sixty films. But her private life was even more compelling than her Oscar-winning on-screen performances. During her seventy-nine years of rapid-fire love and loss she was married eight times to seven different men. Above all, she was a survivor—by the time she was twenty-six she was twice divorced and once widowed. Her life was a soap opera that ended in a deeply meaningful way when she became the first major celebrity activist to lead the fight against HIV/AIDS. A co-founder of amfAR, she raised more than $100 million for research and patient care. She was also a shrewd businesswoman who made a fortune as the first celebrity perfumer who always demanded to be paid what she was worth.
In the first ever authorized biography of the Hollywood icon, Kate Andersen Brower reveals the world through Elizabeth's eyes. Brower uses Elizabeth's unpublished letters, diary entries, and off-the-record interview transcripts as well as interviews with 250 of her closest friends and family to tell the full, unvarnished story of her remarkable career and her explosive private life that made headlines worldwide. Elizabeth Taylor captures this intelligent, empathetic, tenacious, volatile, and complex woman as never before, from her rise to massive fame at age twelve in National Velvet to becoming the first to negotiate a million-dollar salary for a film, from her eight marriages and enduring love affair with Richard Burton to her lifelong battle with addiction and her courageous efforts as an AIDS activist.
Here is a fascinating and complete portrait worthy of the legendary star and her legacy.
ABOUT THE AUTHOR:
Kate Andersen Brower is the author of the #1 New York Times bestseller The Residence and First Women, also a New York Times bestseller, as well as Team Of Five, First In Line, and the children's book Exploring the White House. The Residence is being made into a television series produced by Shonda Rhimes for Netflix. Her forthcoming book Elizabeth Taylor is the first authorized biography of the icon. She is a CNN contributor and she covered the Obama administration for Bloomberg News. She is also a former CBS News staffer and Fox News producer. Kate has written for the New York Times, Vanity Fair, and the Washington Post. She lives outside of Washington, D.C., with her husband, their three young children, and their wheaten terrier.
ABOUT THE MODERATOR:
Heidi Przybyla is POLITICO's investigative correspondent and a veteran Washington journalist who regularly breaks exclusive reporting on the White House, Congress, presidential and congressional elections and, most recently, the state of democracy at home. Her reporting has spanned leading newspaper, digital, radio and television outlets. She's appeared on CNN, PBS, CBS, ABC and across NBC News platforms including Meet The Press, Morning Joe, Deadline White House, and NBCNews.com.