In Conversation with Jon Hilsenrath: Yellen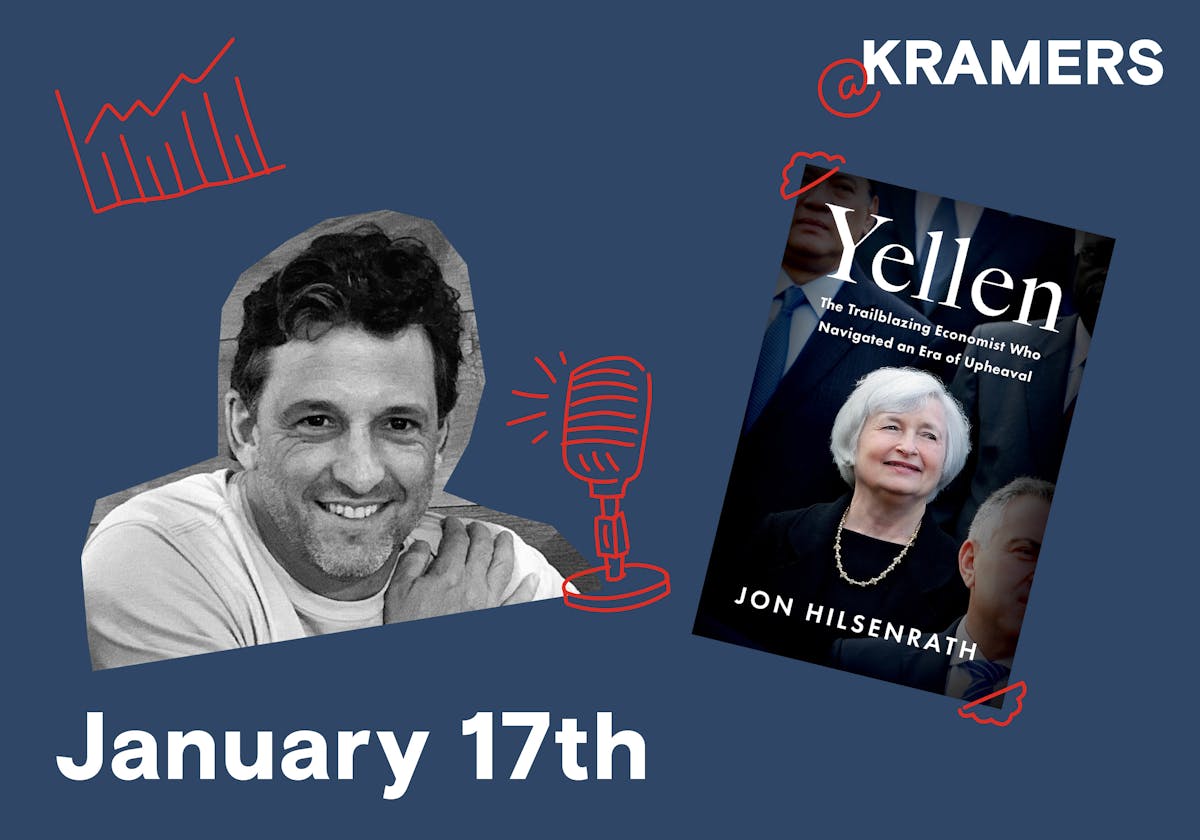 TUESDAY, JANUARY 17TH, 7:00PM
A vivid portrait of an exceptional woman and a lively history of the economic and financial crises that helped make the Treasury Secretary and former Fed chair who she is today.
Author will stay to answer questions and sign books after discussion.
An engrossing and deeply human chronicle of the past fifty years of American economic and social upheaval, viewed through the consequential life of the most powerful woman in American economic history, Janet Yellen, and her unconventional partnership in marriage and work with Nobel Laureate George Akerlof.
At the dawn of the 21st century, many of America's leaders believed that free trade, modern finance, technology, and wise government policy had paved the way for a new era of prosperity. Then came a cascade of disasters—a bursting tech bubble, domestic terror attacks, a housing market implosion, a financial system crisis, a deadly global pandemic. These events led to serial recessions, deepened America's political fractures and widened the divide between those best off and everyone else.
Award-winning economics writer Jon Hilsenrath examines what happened, viewing events through the experiences of two historic figures: Janet Yellen was Treasury Secretary, Federal Reserve Chairwoman and Chair of the White House Council of Economic Advisers. Her husband, George Akerlof, was an imaginative Nobel prize–winning economist.
Long before the upheaval of the past two decades, Akerlof warned of flaws in modern economic thinking; then Yellen had to fix the economy on the fly as it cracked.
In telling their story, Hilsenrath explores long-running intellectual battles over the fragile balance between unruly democratic government and unpredictable markets. He introduces readers to the cast of modern intellectuals and policy makers who deciphered, shaped, and steered these systems through prosperity, chaos, and reformation. And he explains what went wrong, why, and what might happen next.
ABOUT THE AUTHOR:
Jon Hilsenrath is a senior writer for the Wall Street Journal, where he has been since 1997, reporting from Hong Kong, New York, and Washington, DC. He was a Pulitzer Prize finalist in 2014 for his coverage of the Federal Reserve; part of a team of 2009 Pulitzer finalists for coverage of the global financial crisis; and contributed on-the-scene reporting from the World Trade Center on September 11, 2001, which helped the WSJ win a Pulitzer in 2002. His 9/11 coverage also was featured in the book September Twelfth, by Dean Rotbart. Hilsenrath's colleagues twice voted him among the nation's most influential financial journalists. A nonpartisan, he has been a contributor to Fox News, Fox Business, CNBC, ABC, CBS, PBS, NPR, MSNBC, and C-SPAN. He graduated from Duke University and was a Knight-Bagehot Fellow at Columbia University.