Fiction from Around the World!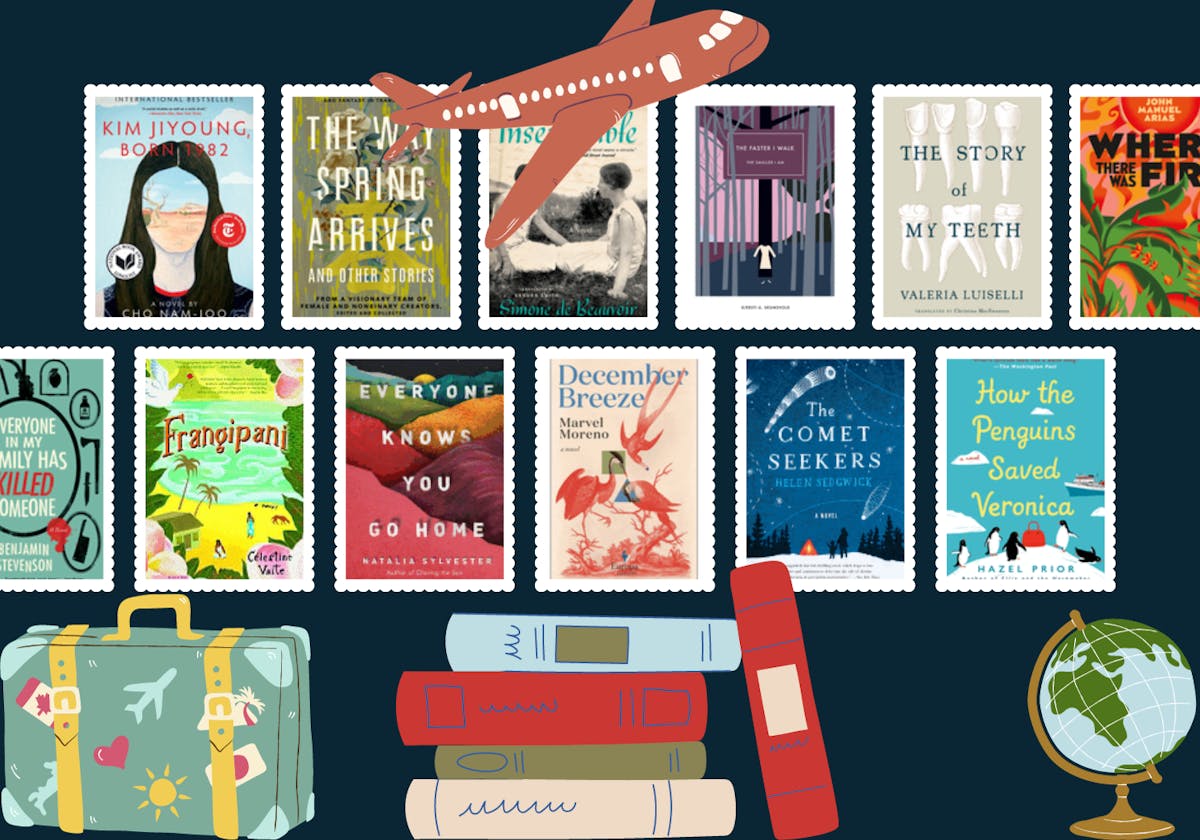 "To travel far, there is no better ship than a book." —Emily Dickinson
Sometimes, travel is best experienced from the comfort of your own home. Here are collections of fantastic books from around the world!
ASIA
Kim Jiyoung, Born 1982 by Cho Nam-Joo:

Korea

Diary of a Void by Emi Yagi:

Japan

Under the Tamarind Tree by Nigar Alam:

Pakistan

Bangkok Wakes to Rain by Pitchaya Sudbanthad:

Thailand

The Way Spring Arrives and Other Stories edited by Yu Chen and Regina Kanyu Wang:

China
EUROPE
The Lovers by Paolo Cognetti:

Italy

The End of Loneliness by Benedict Wells:

Germany

Inseparable by Simone de Beauvoir:

France

The Faster I Walk, the Smaller I Am by Kjersti Skolmsvold:

Norway

The Shadow of the Wind by Carlos Ruis Zafon:

Spain
NORTH AMERICA
Burr by Brooke Lockyer: Canada
The Story of My Teeth by Valeria Luiselli:

Mexico

Where There Was Fire by John Manuel Arias:

Costa Rica

How the Garcia Girls Lost Their Accents by Julia Alvarez:

United States - New York

Never Whistle at Night edited by Shane Hawk:

United States - San Diego/Indigenous
OCEANA
Others Were Emeralds by Lang Leave:

New Zealand

Everyone In My Family Has Killed Someone by Benjamin Stevenson:

Australia

Aue by Becky Manawatu:

New Zealand

New Animal by Ella Baxter:

Australia

Frangipani by Celestine Viate:

French Polynesia
SOUTH AMERICA
Everyone Knows You Go Home by Natalia Sylvester:

Peru

We All Loved Cowboys by Carol Bensimon:

Brazil

Dead Girls by Selva Almada:

Argentina

The House of the Spirits by Isabel Allende:

Chile

December Breeze by Marvel Moreno:

Colombia
ANTARCTICA (Instead of books by authors from Antarctica, these are set there instead!)
The Comet Seekers by Helen Sedgwick
The Dark by Emma Haughton
How the Penguins Saved Veronica by Hazel Prior
At the Mountains of Madness by H.P. Lovecraft
The Narrative of Arthur Gordon Pym of Nantucket by Edgar Allen Poe
ABOUT THE BOOKSELLER
Anna was born and raised in Boston, MA. Her favorite genre to read is fantasy romance. She spent a summer studying dolphin communication in the Bahamas.